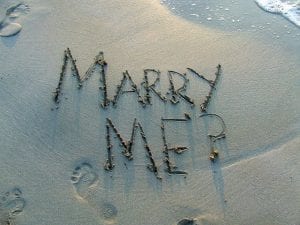 Would you marry me? This question is almost magical, as it is expected by many people. You can not ask it without thinking about, you have to plan the event!
Russian dolls. Pack the ring in its box, itself packaged in another box, then in another… until you get a big gift. So, even if you come with a gift without a particular occasion, your partner will not imagine that it could be an engagement ring. The surprise will be total!

The treasure hunt. Fun and exciting, to organize a treasure hunt to find the engagement ring can be a good idea. Whether it takes place in your home, or outside, by tracing key places in your story (first date, first restaurant, first kiss…), looking for a treasure will make him or her fall back into childhood and will make the moment greatest.

The romantic trip. If you are planning a trip for your marriage proposal, try to go to a very romantic destination, like booking a luxury villa in Sotogrande, or a symbolic place for your couple. Whatever the destination, think about the details and if you do not have time for the organization, book an all-inclusive villa in Sotogrande so that the moment will be perfect and unforgettable.